Vocal Scores - Choral
Brahms Requiem NOVELLO (ENGLISH ONLY)
VS69 NOV070062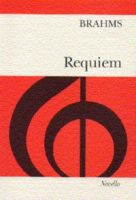 BRAHMS - please click here if you wish to learn about the composer
BRAHMS GERMAN REQUIEM - please click here if you wish to learn more about this piece of music
CHORALINE - please click here to also order a ChoraLine Rehearsal CD/EasyPlay to learn your part




The Novello Vocal Score of Brahms' Requiem Op.45, for Soprano and Baritone soli with SATB chorus and orchestra. This version, edited by John E. West, includes the English text, adapted from the Bible by Ivor Atkins. This hauntingly beautiful Requiem eschews the traditional requiem text in favour of verses from the Bible that Brahms found personally comforting.
Title: Johannes Brahms: Requiem Op.45 (Novello Vocal Score)
Composer: Brahms, Johannes
Editor: West, John E.
Translator: Atkins, Ivor
Arrangement: Soprano, Baritone Voice, SATB, Orchestra (SOP/BAR/SATB/ORCH)
Media: Sheet Music
Edition Type: Vocal Score
Language: English
Pages: 100
Category: Vocal & Choral » Choral » SATB
Publisher: Novello & Co
Catalogue Number: MUSNOV070062
Catalogue Number: NOV070062
ISBN: 9780853603559 (0853603553)
Please note this VS has no Bar Numbers