Verdi
Giuseppe Fortunino Francesco Verdi (10 October 1813 – 27 January 1901) was an Italian Romantic composer, mainly of opera. He was one of the most influential composers of the 19th century.
VERDI- Please click here to view everything we stock
VERDI Choral Scores- Please click here
VERDI ChoraLine- Please click here
VERDI Performance CDs- Please click here
VERDI Singing Sets- Please click here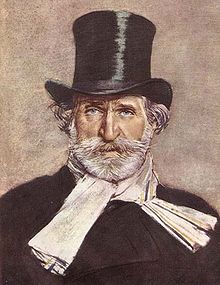 His works are frequently performed in opera houses throughout the world and, transcending the boundaries of the genre, some of his themes have long since taken root in popular culture - such as "La donna è mobile" from Rigoletto, "Va, pensiero" (The Chorus of the Hebrew Slaves) from Nabucco, "Libiamo ne' lieti calici" (The Drinking Song) from La traviata and the "Grand March" from Aida. Although his work was sometimes criticized for using a generally diatonic rather than a chromatic musical idiom and having a tendency toward melodrama, Verdi's masterworks dominate the standard repertoire a century and a half after their composition.

Verdi's predecessors who influenced his music were Rossini, Bellini, Giacomo Meyerbeer and, most notably, Gaetano Donizetti and Saverio Mercadante. With the exception of Otello and Aida, he was free of Wagner's influence. Although respectful of Gounod, Verdi was careful not to learn anything from the Frenchman whom many of Verdi's contemporaries regarded as the greatest living composer. Some strains in Aida suggest at least a superficial familiarity with the works of the Russian composer Mikhail Glinka, whom Franz Liszt, after his tour of the Russian Empire as a pianist, popularized in Western Europe.

Throughout his career, Verdi rarely utilised the high C in his tenor arias, citing the fact that the opportunity to sing that particular note in front of an audience distracts the performer before and after the note appears. However, he did provide high Cs to Duprez in Jérusalem and to Tamberlick in the original version of La forza del destino. The high C often heard in the aria Di quella pira does not appear in Verdi's score.

Some critics maintain he paid insufficient attention to the technical aspect of composition, lacking as he did schooling and refinement. Verdi himself once said, "Of all composers, past and present, I am the least learned." He hastened to add, however, "I mean that in all seriousness, and by learning I do not mean knowledge of music."

However, it would be incorrect to assume that Verdi underestimated the expressive power of the orchestra or failed to use it to its full capacity where necessary. Moreover, orchestral and contrapuntal innovation is characteristic of his style: for instance, the strings producing a rapid ascending scale in Monterone's scene in Rigoletto accentuate the drama, and, in the same opera, the chorus humming six closely grouped notes backstage portrays, very effectively, the brief ominous wails of the approaching tempest. Verdi's innovations are so distinctive that other composers do not use them; they remain, to this day, some of Verdi's signatures.

Verdi was one of the first composers who insisted on patiently seeking out plots to suit his particular talents. Working closely with his librettists and well aware that dramatic expression was his forte, he made certain that the initial work upon which the libretto was based was stripped of all "unnecessary" detail and "superfluous" participants, and only characters brimming with passion and scenes rich in drama remained.

Many of his operas, especially the later ones from 1851 onwards, are a staple of the standard repertoire. No composer of Italian opera has managed to match Verdi's popularity, perhaps with the exception of Giacomo Puccini.

Click here to view all items related to Verdi.