Vivaldi
Antonio Lucio Vivaldi (March 4, 1678 – July 28, 1741), nicknamed il Prete Rosso ("The Red Priest"), was an Italian Baroque composer, priest, and virtuoso violinist, born in Venice. Vivaldi is recognized as one of the greatest Baroque composers, and his influence during his lifetime was widespread over Europe.
VIVALDI- Please click here to view everything we stock
VIVALDI Choral Scores- Please click here
VIVALDI ChoraLine- Please click here
VIVALDI Performance CDs- Please click here
VIVALDI SInging Sets- Please click here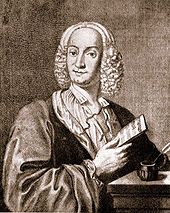 Vivaldi is known mainly for composing instrumental concertos, especially for the violin, as well as sacred choral works and over 40 operas. His best known work is a series of violin concertos known as The Four Seasons.

Many of his compositions were written for the female music ensemble of the Ospedale della Pietà, an orphanage for poor and illegitimate children where Vivaldi worked between 1703 and 1740. Vivaldi also had some success with stagings of his operas in Venice, Mantua and Vienna. After meeting the Emperor Charles VI, Vivaldi moved to Vienna hoping for preferment. The Emperor died soon after Vivaldi's arrival, and the composer died a pauper, without a steady source of income.

Though Vivaldi's music was well received during his lifetime, it later declined in popularity until its vigorous revival in the first half of the 20th century. Today, Vivaldi ranks among the most popular and widely recorded Baroque composers.

Vivaldi's music was innovative. He brightened the formal and rhythmic structure of the concerto, in which he looked for harmonic contrasts and innovative melodies and themes; many of his compositions are flamboyantly, almost playfully, exuberant.

Johann Sebastian Bach was deeply influenced by Vivaldi's concertos and arias (recalled in his St John Passion, St Matthew Passion, and cantatas). Bach transcribed six of Vivaldi's concerti for solo keyboard, three for organ, and one for four harpsichords, strings, and basso continuo (BWV 1065) based upon the concerto for four violins, two violas, cello, and basso continuo (RV 580).

Click here to view all items related to Vivaldi.