Missa Solemnis in D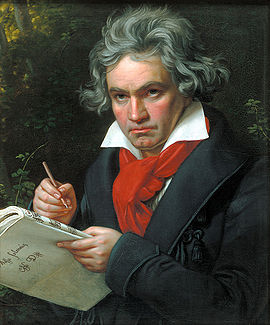 The Missa solemnis in D Major, Op. 123 was composed by Ludwig van Beethoven from 1819-1823. It was first performed on April 7, 1824 in St. Petersburg, under the auspices of Beethoven's patron Prince Nikolai Galitzin; an incomplete performance was given in Vienna on 7 May 1824, when the Kyrie, Credo, and Agnus Dei were conducted by the composer. It is generally considered to be one of the composer's supreme achievements. Together with Bach's Mass in B Minor, it is the most significant mass setting of the common practice period. Unquestionably a great work, representing Beethoven at the height of his powers, it has notably failed to reach the popularity of many of the symphonies and sonatas.
Written around the same time as his ninth symphony, it is Beethoven's second setting of the mass, after his Mass in C, Op. 86, a work far less admired.
The mass is scored for 2 flutes; 2 oboes, 2 clarinets (in A, C, and B♭); 2 bassoons; contrabassoon; 4 horns (in D, E♭, B♭ basso, E, and G); 2 trumpets (D, B♭, and C); alto, tenor, and bass trombone; timpani; organ continuo; strings (violins I and II, violas, cellos, and basses); soprano, alto, tenor, and bass soloists; and soprano, alto, tenor, and bass chorus. If you wish to buy Beethoven's Mass in C, please click
Vocal Scores
and then FILTER BY COMPOSER, or see below for more.
Click here
to view all items related to Beethoven's Missa Solemnis.