Handel Judas Maccabaeus Vocal Score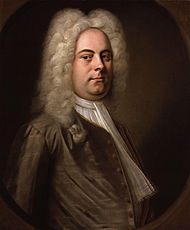 The political context of this oratorio - based on the historical story of the Revolt of the Maccabees against Seleucid rule in Israel - is the Jacobite Rising of 1745. Handel in 1746 hastily composed the Occasional Oratorio for the encouragement of the English. After the success of the British forces at the Battle of Culloden he started a work in honour of the victorious Prince William Augustus, Duke of Cumberland, addressed as "Truly Wise, Valiant, and Virtuous Commander" in the libretto. If you wish to buy Handel's Judas Maccabaeus, please click
Vocal Scores
and then FILTER BY COMPOSER, or see below for more.
The first performance took place on April 1, 1747 at Covent Garden, and Judas Maccabaeus became one of Handel's most popular oratorios with frequent reprises, second only to Messiah.
The chorus "See, the Conqu'ring hero comes" became well-known later as the music was invariably played by brass bands at the opening of new railway lines and stations in Britain during the 19th century and is one of the movements in Sir Henry Wood's Fantasia on British Sea Songs. A Hebrew translation by Aharon Ashman, that was written for the 1932 Maccabiah Games, has become popular in Israel as a Hanukkah song.
In 1884 Edmond Louis Budry wrote new words to "See, the Conqu'ring hero comes" which is now a popular hymn "Thine Be the Glory" ("À toi la gloire").
Click here
to view all items related to Handel's Judas Maccabeus.