Haydn Missa Sancti Nicolai (Nikolaimesse) Vocal Score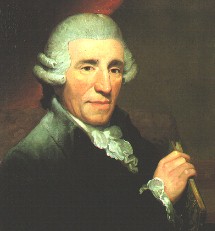 If you wish to buy Haydn's Missa Sancti Nicolai, please click
Vocal Scores
and then FILTER BY COMPOSER, or see below for more.
The Missa Sancti Nicolai Hob. XXII:6 (German: Nikolaimesse) in G major is the sixth Mass by Joseph Haydn. It is believed to have recieved its first performance on the 6th of December 1772 in celebration of the name-day of Count Nikolaus Esterhazy. It may have been written after the "Farewell Symphony", as a kind of thank-you to Count Esterhazy. Despite this, Haydn wrote the Mass in a very short space of time. Thus, the "Dona nobis pacem" has the same melody as the "Kyrie". In the original parts Haydn wrote simply "Kyrie" under the text of the "Dona nobis pacem". On the basis of the pastoral melodie of the Kyria and Dona nobis pacem, which are written in 6/8 time, the Mass has also been called the 6/8 mass. Overall the entire Mass has a very pastoral character, since it was written for the time of Advent.
Click here
to view all items related to Haydn's Nikolaimesse / Missa Sancti Nicolai.