Mendelssohn Hymn of Praise (Lobgesang / Symphony No. 2) Vocal Score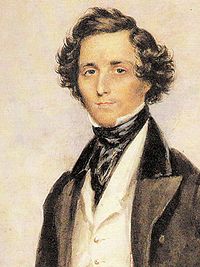 The Symphony No. 2 in B flat major, op. 52, called the "Lobgesang" (or "Hymn of Praise") Symphony, was composed by Felix Mendelssohn. It was written in 1840 to celebrate the 400th anniversary of the invention of printing, along with the less-known Festgesang "Gutenberg Cantata". If you wish to buy Mendelssohn's Hymn of Praise, please click
Vocal Scores
and then FILTER BY COMPOSER, or see below for more.
The composer's description of the work was 'A Symphony-Cantata on Words of the Holy Bible, for Soloists, Chorus and Orchestra'. Structurally, it consists of three purely orchestral movements followed by nine movements for chorus and/or soloists and orchestra, and lasts approximately 65-70 minutes in total. The English titles of the nine vocal movements are as follows.
1. All men, all things, all that have life and breath
2. Praise ye the Lord O ye Spirit
3. Sing ye Praise
4. All ye that cried unto the Lord
5. I waited for the Lord
6. The Shadows of Death
7. The Night is Departing
8. Let all men praise the Lord
9. My song shall be always Thy Mercy
10. Ye nations, offer to the Lord.
Click here
to view all items related to Mendelssohn's Hymn of Praise.