Schubert Mass in A flat Vocal Score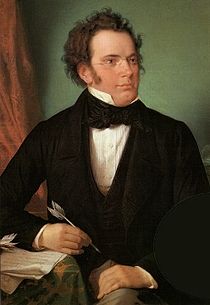 We hear the mature Schubert in his great Mass in A flat (D678). This was composed over a period of four years (1819-1822), giving the lie to the image of Schubert as a composer who never sketched or revised his works. It was not composed for a particular occasion, but Schubert had the grand idea of dedicating it to the Emperor or Empress, perhaps to support his application for the vacant post of Deputy Court Music Director in April 1826. Schubert's application was unsuccessful, and he was later informed that his Mass was "good, but not composed in the [conservative] style which the Emperor prefers".
It is certainly a very bold and personal statement - the music of a young man, full of confidence in his own ability. Schubert makes uncompromising demands on his large orchestra and choir. It is very busy music, whether in the sheer exhilaration of the Gloria or the harmonic adventurousness of the Sanctus. If you wish to buy Schubert's Mass in A flat, please click
Vocal Scores
and then FILTER BY COMPOSER, or see below for more.
The Kyrie flows lyrically. The contrast between its pianissimo ending in A flat and the exuberant burst of E major fortissimo which opens the Gloria could not be greater;it is a musical coup de theatre. Widely striding bass quavers and running semiquavers in doubled violins produce sense of joyous hyperactivity. The orchestra is augmented by a flute, two trumpets and three trombones. The final extended fugue at "Cum Sancto Spiritu" demonstrates Schubert's debt to the Handel oratorio.
In the Credo the frequent repetitions of "Credo" ("I believe") represent an intense confession of ffaith. After two contrasting statements of the C major chord, the choir enters unaccompanied, making the great shout of "Credo" on their third entry the more forceful - Schubert's sense of drama again in evidence. At the word "Crucifixus" Schubert's graphic phrase evokes the pain, almost the physical raising of the cross.
The choir's three words on "Holy" at the opening of Sanctus emerge dramatically from shifting orchestral harmonies, but having thus passed through the mystic portal, we enter a blissful world; indeed, the pastoral atmosphere of the "Pleni sunt coeli" and "Osanna" suggests Elysian Fields in a distinctly literal way. With the final Agnus Dei, the choir brings this great affirmation of faith to a gentle conclusion.
Click here
to view all items related to Schubert's Mass in A flat.