Vocal Scores - Choral
Dvorak Stabat Mater Vocal Score NOVELLO
VS118 NOV072503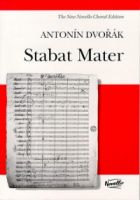 DVORAK - please click here if you wish to learn about the composer
DVORAK STABAT MATER- please click here if you wish to learn more about this piece of music
CHORALINE - please click here to also order a ChoraLine Rehearsal CD/EasyPlay to learn your part




Dvorak's Stabat Mater is his first setting of a religious text, which was begun in 1876.
The work received its first performance in 1880 in Prague.
This new edition edited by Michael Pilkington follows the layout of the previous Novello edition for ease of compatibility. Vocal score with piano accompaniment.
Text in Latin. Scored for Soprano, Alto, Tenor, and Bass Soloists, SATB and Orchestra.
Title: Antonin Dvorak: Stabat Mater (New Edition) Vocal Score
Composer: Dvořák, Antonín
Arrangement: SATB, Piano Accompaniment (SATB/PFA)
Media: Sheet Music
Edition Type: Vocal Score
Pages: 104
Category: Vocal & Choral » Choral » SATB
Publisher: Novello & Co
Catalogue Number: MUSNOV072503
Catalogue Number: NOV072503
ISBN: 9780711983342 (0711983348)