Vocal Scores - Choral
Dvorak Te Deum op.103 (Full Score) CARUS
VS 661 CV27.189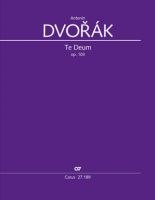 DVORAK - please click here if you wish to learn about the composer
DVORAK TE DEUM- please click here if you wish to learn more about this piece of music
CHORALINE- please click here to also order a ChoraLine Rehearsal CD/EasyPlay to learn your part




In 1892 Dvorák received a prestigious commission from New York to write a festive cantata to commemorate the 400th anniversary of Christopher Columbus's discovery of America. In response he wrote an impressive work in a very short space of time – his "Te Deum"
,
which expresses in celebratory style the old hymn of praise in four effective
,
contrasting sections. In preparing the Carus edition
,
a careful assessment has been made of the variant readings of the autograph score and first printed edition
,
drawing on these as sources. The result is that the work is newly available in a modern
,
scholarly edition.
Title:

Antonin Dvorák: Te Deum, Op. 103 Urtext Partitur/Full Score
Composer: Dvořák, Antonín
Arrangement: Soli SB, Coro SATB, 2 Fl, 2 Ob (auch EH), 2 Clt, 2 Fg, 4 Cor, 2 Tr, 3 Trb, Tuba, Timp, Perc, 2 Vl,Va, Vc, Cb
Language: Latin
Pages: 82
Publisher: Carus
Catalogue Number: CV 27.189
ISMN: 9790007181628
Date Published: 2017