Vocal Scores - Choral
Karl Jenkins Requiem BOOSEY & HAWKES
VS279 BH11684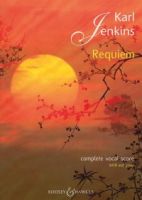 In recent years Karl Jenkins has become one of the world's best-selling living composers. He continues to conduct his epic Adiemus Live Concerts with distinguished orchestras including the London Philharmonic, featuring in Festivals and concerts in Britain and abroad; and his moving choral work The Armed Man: A Mass For Peace is now firmly lodged as a concert favourite.
This new work builds on the style which the British public have come to know and adore. Jenkins has set the usual Latin movements of the requiem mass, but, in keeping with his usual trait of drawing from other cultures, he has also set five Japanese haiku 'death' poems.
Such poems are usually to do with nature, have a single idea, and consist of seventeen syllables divided 5-7-5 over three lines. As one can see from the text, the Japanese view nature's water cycle (precipitation) as being synonymous with life. The Western and Eastern texts are combined in two of the haiku movements, Having Seen The Moon and Farewell, which incorporate the Benedictus and the Agnus Dei respectively. Both are intoned by male voices in a monastic style as a counterpoint to the Japanese text sung by females.
The instrumentation of these haiku settings includes the ancient Japanese wind instrument, the shakuhachi. Elsewhere, as usual, Jenkins has used some ethnic drums (e.g. Arabic darabuca, Japanese daiko, frame drums) and even a hip-hop rhythm in the Dies Irae!
Introit & Kyrie
Dies irae
The snow of yesterday (Gozan)
Rex tremendae
Confutatis
From deep in my heart (Issho)
Lacrimosa
Now as a spirit (Hokusai)
Pie Jesu
Having seen the moon
Lux aeterna
Farewell (Banzan)
Dona eis pacem
In paradisum
Title: Jenkins, K: Requiem
Composer: Jenkins, Karl
Arrangement: mixed choir (SATB) and orchestra (CHOIR)
Media: Sheet Music
Edition Type: Vocal Score
Language: Latin - Japanese
Pages: 110
Duration: 55'
Category: Vocal & Choral » Choral » SATB
Publisher: Boosey & Hawkes
Catalogue Number: BH11684
Catalogue Number: M060116841
Catalogue Number: 9780851624853
EAN: 0073999238532
UPC: 073999238532
ISBN: 9780851624853 (0851624855)
ISMN: 9790060116841 (M060116841)
Date Published: 14 Sep 2010