Vocal Scores - Choral
Karl Jenkins The Peacemakers BOOSEY AND HAWKES
VS480 BH12434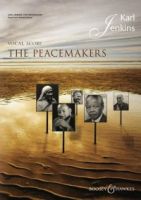 The Peacemakers sets words of peace from iconic, world-changing figures such as Gandhi, Nelson Mandela and Martin Luther King, along with other inspirational quotations of Mother Teresa, Albert Schweitzer, Anne Frank and the Dalai Lama. Also included are religious texts from the Bible, the Qur'an, St Francis of Assisi and Bahá'u'lláh, and the poetry of Shelley, Malory, Terry Waite and Carol Barratt.
One line from the Persian mystic poet Rumi sums up the ethos of the work: 'All religions, all singing one song: Peace be with you'. Scored for soprano solo, SATB chorus, optional SSA chorus, flute, guitar (acoustic, classical or fretless bass), strings & percussion, with optional soprano saxophone, brass, timpani, solo violin and organ/electronic keyboard. English & Latin text, with 'peace' in many languages.
Table of Contents
ContentsPreface
Text
Scoring
Performance notes
First recording details
The Peacemakers
Part IBlessed are the peacemakers
Fanfara
Peace, peace!
I offer your peace
Inner peace
Healing Light: a Celtic prayer
Evening Prayer
IntermezzoSolitude (optional
voices tacet)- The Peacemakers
Part IIFiat pax in virtute tua
He had a dream (Elegy for Martin Luther King Jr)
The Dove
The Peace Prayer of St Francis of Assisi
One Song
Let ther be justice for all
Dona nobis pacem
Anthem: Peace, triumphant peace
Title: Jenkins, K: The Peacemakers
Composer: Jenkins, Karl
Arrangement: mixed choir (SATB), optional choir II (high voices) and ensemble (Ch-Mixed (SATB), Ch II (H-Voice) optional & Ens)
Orchestration: Flute (doubling piccolo and optional bass flute), 5-string fretless bass guitar (or classical or acoustic guitar), percussion (3), trings.Ethnic percussion:2 low floor tom-toms (different tensions), goblet drum (eg darbuca, tablas, bodhrán), tambourim, pandeiro or riq (tambourine may be substituted), bamboo chimes, mark treeStandard percussion:Glockenspiel, crotales, tubular bells, marimba, 2 tuned bells (E, B), triangle, snare drum, tenor drum, bass drum, tam-tam (low), cymbals, suspendetd cymbalsOptional
Media: sheet music
Edition Type: Vocal Score
Edition Info: 5. Auflage 2015
Language: English - Latin
Pages: 140
Duration: 70'
Category: Vocal & Choral » Choral » SATB
Publisher: Boosey & Hawkes
Catalogue Number: BH12434
Catalogue Number: M060124341
EAN: 0884088667900
UPC: 884088667900
ISBN: 9780851626963 (0851626963)
ISMN: 9790060124341 (M060124341)
Date Published: 20 Jan 2012