Dvorak Mass in D Vocal Score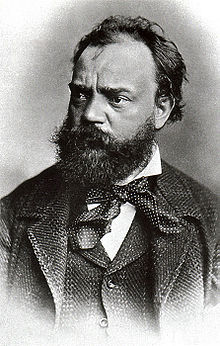 The Mass in D major (originally numbered as opus 76, definitively as opus 86) is a well concentrated, perfectly structured composition rich in expression, aimed right from the beginning far beyond a local occasion. As for the originál cast, Dvořák tailored it to the conditions of the Lužany chapel: only four solo voices, a mixed choir and organ. He spent about four weeks working on the composition from May 26 to June 17, 1887. If you wish to buy Dvorak's Mass in D, please click
Vocal Scores
and then FILTER BY COMPOSER, or see below for more.
The Mass was first performed on September 11 of the samé year at Lužany with Dvořák conducting. The quartet of solo singers (though the solo parts are conceived so as to be manageable by members of the choir) was made up of Mrs. Hlávková herself (soprano), Dvořák's wife Anna (alto), R. Huml (tenor) and O. Schwend (bass), both resident in Plzeň, together with the Hlahol choir of Plzeň, and Josef Klička, a teacher of the Prague organists' school, playing the organ. For a later performance of the work in Plzeň, Dvořák reinstrumented the Mass for two harmoniums, cello and two double-basses.
The work was given its finál shape in the year 1892 when, in response to a request from the Novello publishers of London, Dvořák arranged his Mass in D major for a symphony orchestra. This finál version of the work is dedicated to "Mr. Josef Hlávka, President of the Czech Academy of Sciences and Arts in Prague". In terms of form, the Mass in D major is based on the classical scheme of a six-part Catholic Ordinary, in which the most relevant music is situated in the Credo and Agnus Dei parts, which makes profound sense in terms of structure as well as content.
Click here
to view all items related to Dvořák's Mass in D.