Purcell Ode on St Cecilia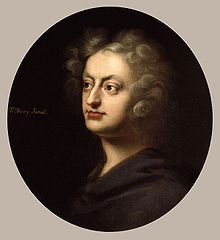 If you wish to buy Purcell's Ode on St Cecilia's Day, please click
Vocal Scores
and then FILTER BY COMPOSER, or see below for more.
"Hail! Bright Cecilia", also known as the Ode to St Cecilia or Ode on St Cecilia's Day, was composed to a text by Nicholas Brady by Henry Purcell in 1692 in honour of the feast day of Saint Cecilia, patron saint of musicians. Annual celebrations of this saint's feast day (November 22) began in 1683, organized by the Musical Society of London, a group of musicians and music lovers. Purcell had already written Cecilian pieces in previous years, but this Ode remains the best known. The first performance was a great success, and received an encore.
In spite of Brady's conceit of the speaking forest (It should be remembered that English organs of the period typically had wooden pipes), Purcell scored the warlike music for two brass trumpets and copper kettle drums instead of fife and (field) drum. The orchestra also includes two recorders (called flutes) with a bass flute, strings and basso continuo.
Purcell is one of several composers who have written music in honour of Cecilia.
Click here
to view all items related to Purcell's Ode on St Cecilia's Day...
... or
here
to view all items related to St Cecilia.